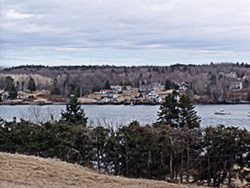 Over the past few years, some of the finest people we've met had two things in common: a love for the way Maine ought to be, and an association with All Maine Matters.
So after several different people had asked us to start the paper up again, we were both honored and awestruck.
Our intention is to satisfy those who have contributed to the publication of All Maine Matters before so that they will feel motivated to remain part of our team.
It is one thing to make the statement that all Maine matters, but it's quite another to determine just what matters to all of Maine. We need your help in order to bring this publication to you each month. What do you want to see in this publication?
If you would like to write a letter to the editor, email us at editor@allmainematters.com.
If you are interested in contributing an article or commentary, email us at articles@allmainematters.com
If you would like to advertise with us, do so by sending email to us at ads@allmainematters.com.
And if you would like us to drop off copies of All Maine Matters at your place of business for distribution, email us at distribute@allmainematters.com
Or you can contact us by writing to PO Box 788, Kingman, ME 04451, or calling us at 207 .723.4456.